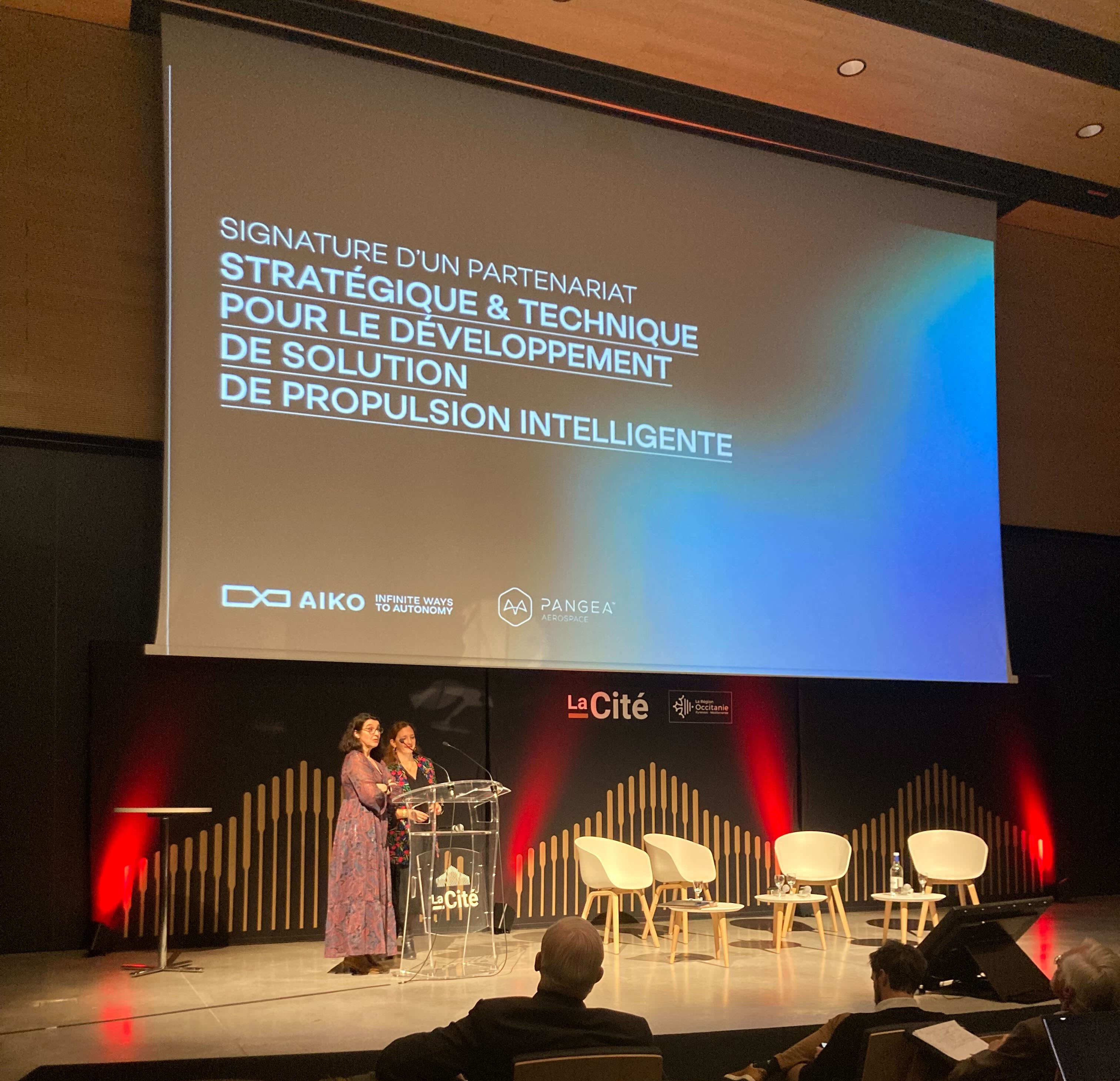 Aiko and Pangea, building the first AI-powered propulsion system.
---
Pangea Aerospace and Aiko join forces to create Europe's first intelligent, autonomous chemical propulsion system for in-orbit space missions.
Aiko and Pangea Aerospace announce a new collaboration to propose an intelligent, autonomous chemical propulsion system aimed at improving the management of in-orbit space missions. This collaboration promises to bring numerous technical benefits and considerable interest for space surveillance, collision avoidance and satellite durability.
Making in-orbit missions and satellites more efficient, sustainable and cost-effective
The complementary technologies of the two NewSpace players, combining chemical propulsion for satellites and on-board artificial intelligence algorithms, will provide manufacturers and operators in the sector with an intelligent propulsion system capable of autonomous and precise maneuvering while reducing areas of uncertainty. This will enable satellites to make real-time decisions to avoid collisions with other objects and debris in orbit, which is crucial for the safety and sustainability of space.
Satellite sustainability is another important aspect of the new chemical propulsion system proposed by Pangea Aerospace and Aiko. Satellites are expensive to build and launch, and it is essential to maximize their lifespan to optimize investments. This intelligent, autonomous propulsion system optimizes fuel consumption and extends satellite life. As a result, satellite maintenance and replacement costs are reduced, representing significant savings for operators and manufacturers.
Pioneering technology to meet the challenges of industrial capacity and sovereignty
With the densification of traffic (2,500 new satellites launched every year) and the multiplication of new players, space has become an environment of economic and political confrontation, prompting us to reconsider the importance of space surveillance. Space surveillance is becoming a key element of sovereignty for governments. This type of industrial solution proposed by Pangea Aerospace and Aiko is helping to give new impetus to France's, and Europe's, industrial space capabilities. 
"The partnership between Aiko and Pangea demonstrates how industry innovation stems from emerging new startups in the sector. Artificial intelligence is indeed a key tool for rethinking space missions, significantly reducing costs and greatly optimizing outcomes. This project has ambitious goals, and we are confident that its result will mark a strategic step forward in asserting new technologies globally." concludes Aurélie Baker, France Country Manager at Aiko.
"Pangea Aerospace is delighted to join forces with Aiko to meet the challenges of industrial development and sovereignty in the space sector, which are key to the sector's future. The pioneering system we are proposing in Europe will enable us to meet the challenge of autonomous maneuvers in space, which is the domain of foreign powers. This partnership proves our ability to innovate, and our contribution to the emergence of new solutions that will enable France and Europe to play a key role in this new space economy," says Marie-Laure Gouzy, Director France at Pangea Aerospace.